It's running across brands like Whiskey Leatherworks that really get my juices flowing.  They are a small batch leather company based out of Missoula, Montana.  They create some really great leather goods by hand in a workshop.  A buddy forwarded me an image of a few of their belts, and I was hooked.  Owner Daniel Earnest and I started talking, and it was clearly obvious to me that their story needed to be shared…
So straight from Missoula, here is what's what at Whiskey Leatherworks:
What is the history of Whiskey Leatherworks? In 2013, Whiskey Leatherworks began in the garage of our home. It started, quite simply, as a place to feed the creative need that our day jobs were not satisfying.  We kicked around the question, "what could build that would be A). enjoyable to make, and B). a meaningful finished product". Eventually, we settled on belts as a starting point. Then we made a commitment to focus on the highest standards of craftsmanship, with an emphasis on quality, not quantity. We would make each piece, one at a time by hand, right here in Missoula and from US-sourced materials. However, a search for an American made buckle left us empty-handed. We then embarked on a journey to find our very own metalsmith, we found Missoulian Sir Nathan Kimpell (Nathan is knight- quality in our book, though not yet officially knighted). Nathan agreed to forge rugged, yet classic, buckles from solid bronze, stainless steel and copper. These efforts resulted in handmade pieces that are solid and refined, embodying the raw and resourceful American West.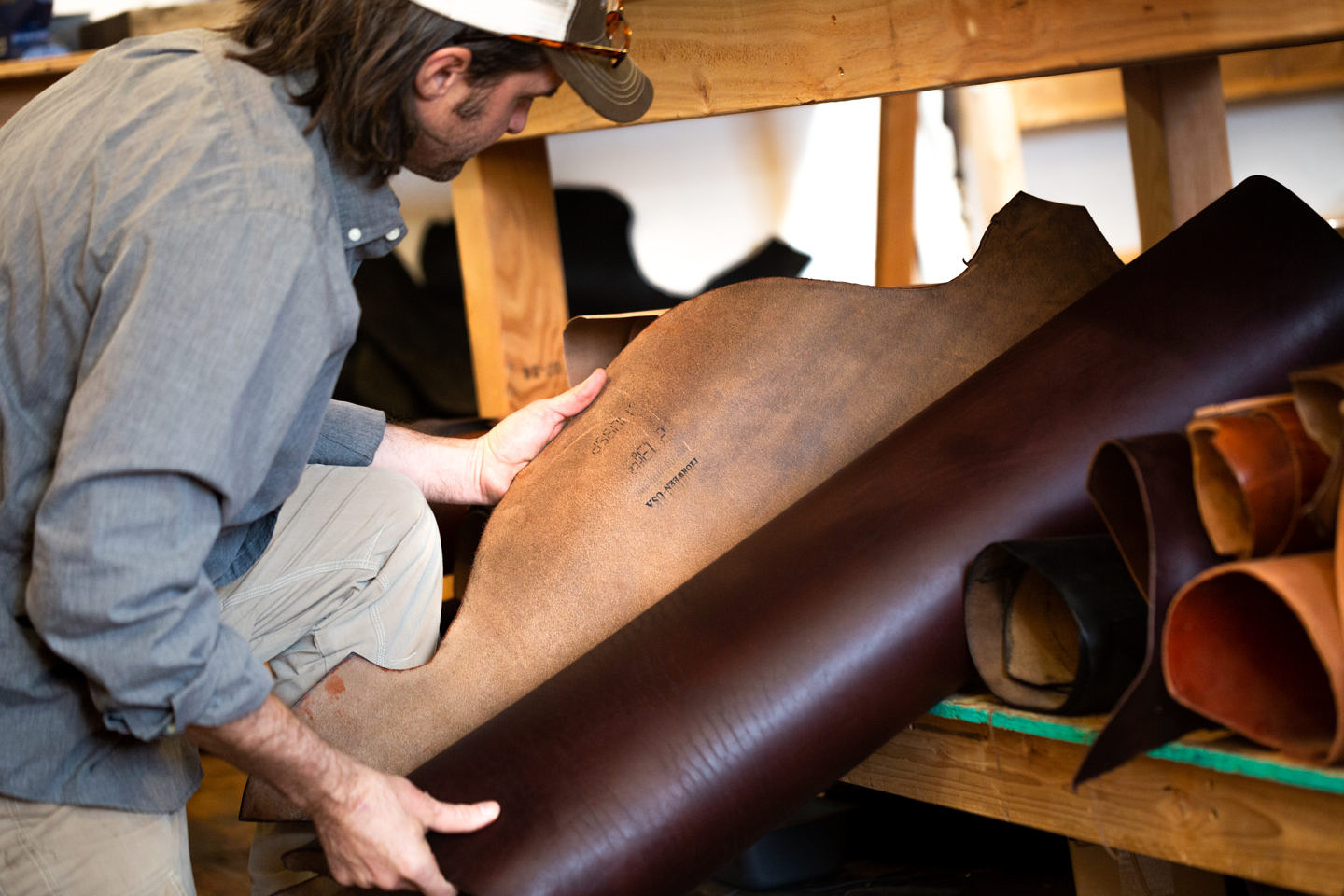 What's it like running a small-batch producing company? We love being a small-batch company. Being small shop and family owned & operated gives us freedom and flexibility. We are not tied down by large volume orders, (our minimum for wholesale orders is, laughably, 5-10 pieces). This gives us the ability to customize pieces that fit the needs of folks who are buying them. We can easily create a non-standard belt size, adjust hardware components or add monogramming. Being a quintessential "mom & pop shop" also gives us the joy of interacting directly with our customers, on a daily basis, through phone calls and email exchanges. This is often the
highlight of our day.
What type of customer buys from Whiskey Leatherworks? Our customers are men and women who take the time to look for unique products that are handmade, one at a time, with high quality materials. On more than one occasion folks have sought us out at trade shows or events just to show us excitedly a belt or wallet, that we made for them, years ago. It is a pretty special feeling when that happens. People who buy these pieces know that they are not buying commodities. A fellow or a gal might wait a longer than if they were purchasing something that was mass-produced, but that doesn't seem to bother the awesome folks in our community. We see the people that trust us with building their pieces as a big family. Perhaps because, in truth, we would not be here without them. This includes our growing wholesale community too, of small distilleries and such around the country.
Why is Montana a good backdrop for Whiskey Leatherworks? Montana is a bit of a land unto itself. It is beautiful- yes…but it is also remote, hard to get to, and it can be little harsh. Many of us out here are rocking the "Pioneer Economy". We have started our own companies because there is not an over-abundance of jobs. We feel really lucky because in Montana, unlike other areas of the country, creativity and drive goes a really long way. We have ever-flowing inspiration from the very land that we live on. Like many Missoulians, we are transplants. I am originally from Atlanta and my wife, Ally, is from New England. We have called Montana "Home" for the last 16 years. We are now proudly raising two native Montanans of our own. Being a family fueled and filled by nature, we thrive on all seasons and the adventures that they bring. Late Spring is dominated by fly-fishing & river float trips; Summer is special for sailing Flathead Lake; Autumn is dominated by mountain biking as well as pheasant & elk hunting and Winter can't be beat for downhill and Nordic skiing. This land that we are blessed to live with permeates all aspects of our life, in and out of the shop.
What is your favorite piece from your collection? My favorite piece is always the current prototype that I am working on, the "next thing" that I am developing, but not yet launched. I enjoy being in the testing phase of product development. I absolutely love creating a piece, using it for a while, then deciding what I can do to improve it.
What do you like to do outside of running the company? In Montana, it really depends on the season. As I mentioned earlier, our family is made whole by being in nature. That being said, when the snow is caught in a howling wind, or the rain and hail are slicing sideways- on those days you'll find us curled up on couches by the fireplace reading or settled happily into our hot tub watching it all come down.
What is on your Spotify Playlist? Are you ready for diversity? Waylon Jennings, Jason Isbell, Matin Sexton, Asian Beats, Tom Waits, The Velvet Underground w/ Nico, Koladine, Janis Joplin, Billy Idol, Johnny Cash, Ani DiFranco, Chet Baker, Iron & Wine, Dolly Parton…and a few others I can't recall…
Daniel wanted to get my opinion on a belt, and was nice enough to send me the Pheasant Tail:
Out of the box, it's clearly obvious that the belt is substantial.  It has a heft to it that is indicative of very nice Chromexcel leather.  Horween does good work, and with Daniel's craftsmanship, he really brings it to life.  I fully expect this to patina very nicely.
The belt is a 1.5″ width, so it's manly.  A great belt with boots, if you know what I mean, or lighten it up with a pair of bit loafers for a bit of a refined, rugged look.  The pheasant tail design is a nylon ribbon that is securely attached to the belt.
This is one of those belts, folks.  The kind of sentimental heirloom that you'll tell stories about.  Mine is to celebrate my first absence from the South Dakota Pheasant Opener in years…at least I came away with something.  Be sure to check out their whole collection – the leather belts, and the Upland and Game collection.  I'm sure you'll find something you'll like.